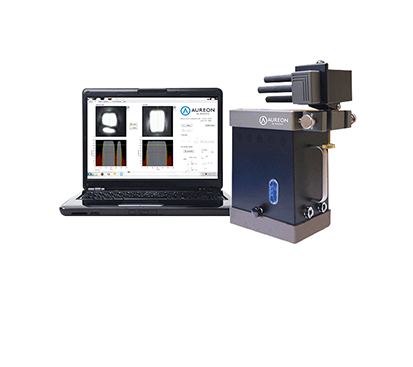 The proprietary Aureon™ is a new technology applied to more completely understanding the functionality of a diagnostic ultrasound transducer by directly imaging the acoustic energy emitted from the surface of the transducer under test in real-time.

The Aureon™ device uses exclusive 2D matrix technology that allows for the capturing of energy profiles of all types of probes including the latest 2D matrix arrays like the Philips X7-2t, X6-1, and X5-1, the Siemens 4Z1C, and the GE 2D Array TEE 6TV probe. Also the energy output of newer induced shear wave propagation technologies such as Acoustic Radiation Force Impulse Imaging (ARFII) can be viewed using Aureon™.

Aureon™ was designed to be used in the hospital environment for QA and dosimetry applications, Aureon™ is also ideally suited to be used for in-process transducer manufacturing, transducer R&D and acoustic stack materials assessment, and as a final manufacturing quality assurance testing.